Hung Kai Chen, Christopher Chase*, and Michael Huang
Bandwidth10 LTD, 1218 Seventh St., Suite A, Berkeley, CA, USA
Email: cchase@bandwidth10.com
Introduction
Motivation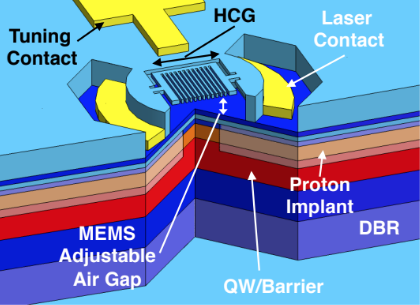 Low cost, 10 Gbps, tunable, 1550 nm transceiver for DWDM PON front haul access networks driven by C-RAN architectures
Tunablility needed for lower in the field installation and maintenance costs
Conventional wavelength lockers are too costly for the access market.
Innovations
High contrast grating (HCG) as a MEMS-actuatable mirror for a low cost directly-modulated tunable VCSEL-based transceiver
Using the AWG and other components alreadypresent in the system, the laser wavelength can be locked without any integrated locker using draft ITU-T G.METRO approach.
Low speed optical signaling integrated in the transceiver can change channel, wavelength lock laser, and provide other system level functions without any additional hardware.
VCSEL-Based SFP+
Designed for cost-sensitive, DWDM market applications
SFP+ form factor with tunable VCSELTOSA and APD receiver at up to 10 Gbpsover 10+ km of fiber with no compensation.
16+ channelson a 100 GHz DWDM grid inthe C or L band
<1.5 W power consumption
Operates over commercialtemperature range
Industrial temperature range upto 3 Gbps
Industrial temperature at 10Gbps in development
50+ dB SMSR for all channels
Power ~+1~-1 dBm across the tuning range
Consistent ER achievedacross the tuning range of 5±0.1 dB
Bit error rate of 4 channels across the tuning range was measured at 10.3 Gbps
with PRBS 231-1, back-to-back and after 10 km of SMF-28
Power penalty is ~ 2.7dB for 10 km of fiber at 10 Gbps for all channels.
Received power at 10 Gbps at a BER of 10-3 Back-to-back was -29.2dBm
Longer links can be realized using DCM
Allows for 22+ dB link budgets at 10 Gbps
Bit error rate after fiber transmission for 4 channels
This transceiver is a promising option for DWDM front haul access networks where low cost wavelength-locker-free transceivers are needed.
Transceiver Design with Integrated Low Speed Overlay
Transceiver follows draft ITU-T G.METRO specifications
Control signal is sent from the head end side of the link to the tail end of the link, controlling tail end receiver.
Control signal is a low duty cycle (~7-9%) signal at ~50 kbps, not interfering with the high speed payload
Tail end can send a pilot tone back to the head end, which can be used to ascertain the channel of the tail end transceiver with a tap on all of the signals and external signal processing on the head end side.
The transmitted low speed control signal is inserted by the MCU through low speed control of laser bias current, external to the high speed driver
Received low speed signal is detected and decoded by MCU after low speed/high speed filter split.
G.METRO commands and wavelength tuning data can be communicated through I2C interface
Implementation of tail end sending DDMI and other control information in progress
Wavelength Tuning and Stabilization by G.METRO
We use a system level feedback loop and components already in the networks such as the AWG to achieve wavelength stabilization in a DWDM system
This results in significantly lower overall system costs compared to having a wavelength locker in every transceiver.
Our SFP+ can act as the tail end unit in the system. HEE is under development
The TEE SFP+ can be remote controlled by the head-end equipment to change channels, fine tune the wavelength, and reset.
The same commands are also supported over I2C so the host can alternatively be used instead of low speed overlay, depending on the system-level approach
The system scans the transceiver wavelength until the power drop at the AWG's band edges is seen, determining the edges of the AWG filter.
Afterwards, the wavelength is centered in the middle of the two band edges.
Channel can be repeatedly locked within ±15 pm using this technique.
Finding AWG center and locking wavelength
https://www.bandwidth10.com/wp-content/uploads/2019/03/d.png
371
646
assist01
/wp-content/uploads/2019/01/logo-blank.png
assist01
2019-03-20 09:52:08
2019-03-20 09:52:08
10 Gbps Tunable VCSEL-based SFP+ with Integrated G.METRO Functionality for Fronthaul Access Networks